REISHI MUSHROOM - Single-Herb Spagyric Tincture - Adaptogen, Cognition, Immune Support
$

29.99 Sold Out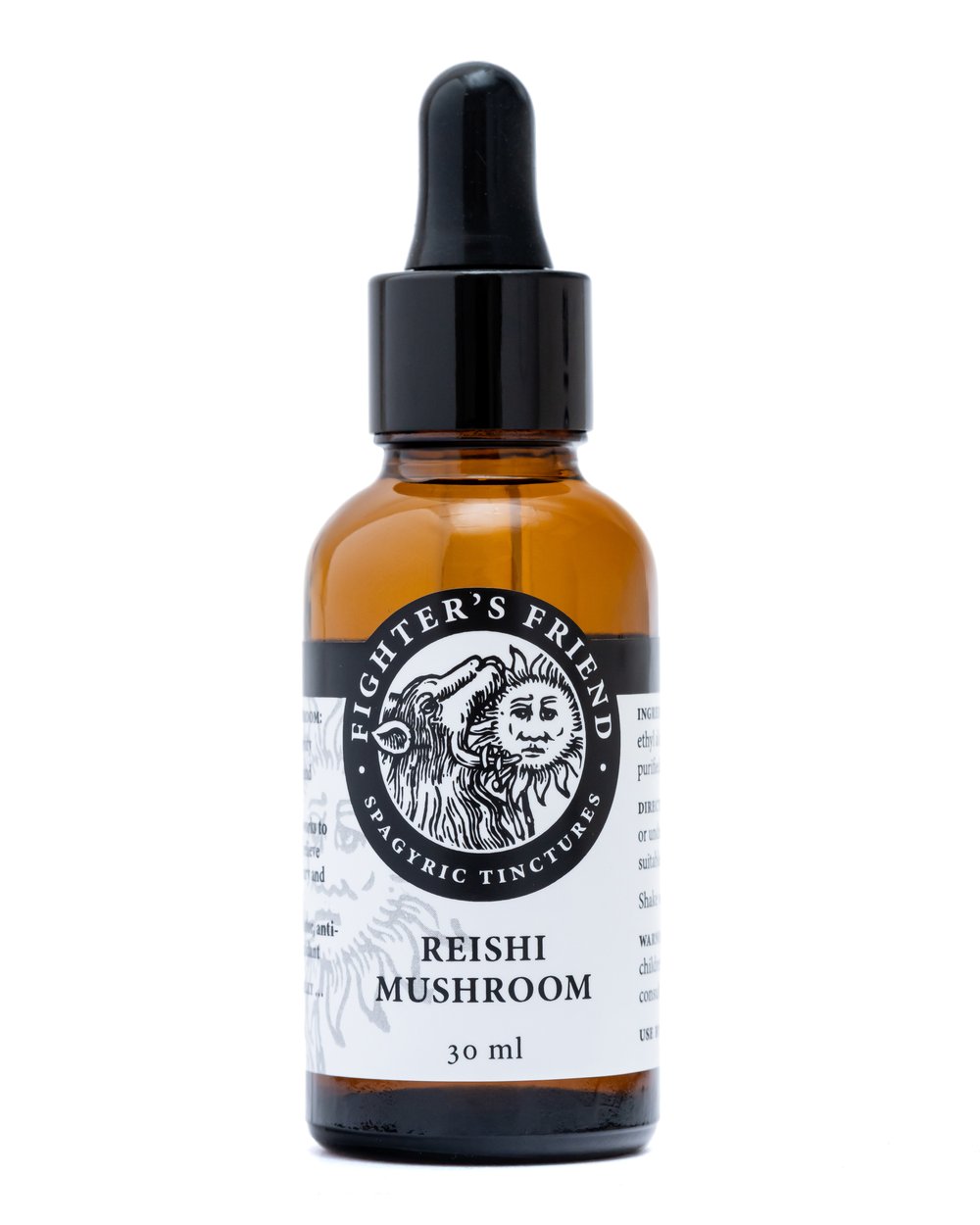 BENEFITS OF REISHI MUSHROOM:
• Radiant health and longevity
• Enhanced concentration and mental focus
• Optimised circulation – works to regulate blood pressure, relieve arthritis and enhance injury and wound healing
• Powerful immune modulator, anti-inflammatory and anti-oxidant
REISHI (also known as ling zhi or 'supernatural fungus') is the mature fruiting body of the Ganoderma lucidum mushroom. Hailed by numerous Asian traditional medicine systems as the 'mushroom of immortality' – used to "promote radiant health, longevity and a more centred state of mind" – reishi has also been extensively researched by Western science.
Renowned as an adaptogen (i.e. it 'adapts' to the body's specific needs based on health condition and gender) and immune modulator (i.e. it regulates and 'fine tunes' the immune system), reishi is also recognised for its anti-inflammatory, anti-oxidant, anti-bacterial, anti-viral, anti-fungal, anti-diabetic, and anti-cancer properties, and its ability to support neurological, metabolic, hepatic, and vascular systems.
The anti-inflammatory qualities of reishi enable it to help versus cognitive disorders (such as Alzheimer's and Huntington's disease) by increasing the amount of blood flow to the brain. By optimising circulation, reishi also works to relieve arthritis, gout and headaches, and to enhance injury and wound healing. By improving the efficiency of blood flow to the heart and lowering blood pressure, reishi reduces the amount of oxygen consumed in the heart, enabling greater amounts of oxygen to be utilised by other organs and throughout the body. Reishi can also reduce the level of 'bad' cholesterol and help to protect from heart attacks and strokes.
Research indicates that reishi can help to decrease the level of toxins in the body, especially the liver (reishi hastens the regeneration of healthy liver cells). Reishi has also been shown to be able to prevent allergic reactions (ranging from skin irritation to anaphylaxis) and relieve the symptoms of asthma, bronchitis and other chronic respiratory conditions.
Reishi has been demonstrated to prevent the development of cancers and to inhibit the development and metastasis of tumours. Certain bioactive compounds within reishi have demonstrated selective cytotoxic properties (i.e. seeking out and neutralising cancerous cells within the body).
The anti-oxidant properties of reishi mean that the '10,000 year mushroom' works to neutralise free radicals capable of causing chronic disease and premature aging. Reishi also helps to maximise lifespan by boosting the immune system and preventing certain abnormal blood vessel formations.
Reishi has long been prized not only for its role in maintaining radiant health and facilitating longevity, but also for its vital assistance to 'spiritual seekers' and meditation practitioners: calming the mind, easing tension, strengthening memory, sharpening concentration, improving focus, promoting inner balance and awareness, building willpower and, as a result, wisdom.
~
MATERIALS: Dried mushroom, ethyl alcohol, distilled water, purified plant body. Packaged in a 30 ml amber bottle with glass dropper.
DOSAGE: Take 10-15 drops on or under the tongue, or drink in any suitable liquid, twice daily (usually 30-45 minutes before training or performance). Observe and adjust the number of drops, dosage frequency and timing in order to achieve the best results.
SHIPS worldwide from South-East Asia. Ready to ship in 1-3 business days.
~
Like or Follow us to stay informed about the availability of our natural performance-enhancing herbal extractions
FB: fighters.friend
IG: fightersfriend
Personal and wholesale queries welcomed
fighters.friend.ss[at]gmail.com
~
Disclaimer: Information presented here is intended for educational purposes only. Such information has not been evaluated by the FDA (or similar regulatory agencies) and is not intended to diagnose, cure, treat, or prevent disease. Individual results may vary. Before ingesting any spagyric tinctures it is advisable to consult with your health care provider.
Share