HOLY BASIL - Single-Herb Spagyric Tincture - Adaptogen, Anti-Inflammatory
$

24.99 Sold Out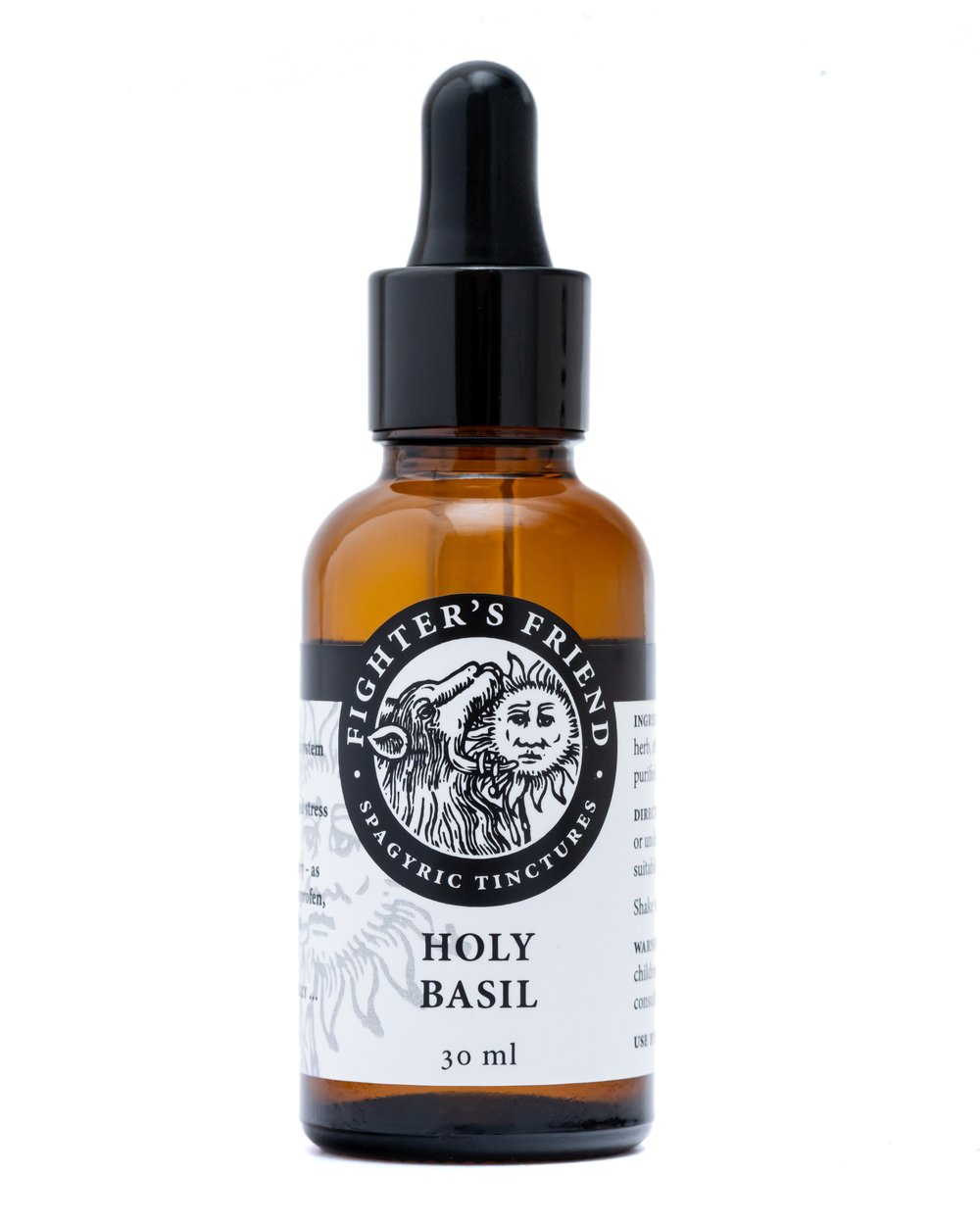 BENEFITS OF HOLY BASIL:
• Enhanced central nervous system and cognitive health
• Natural anti-depressant and stress relieving properties
• Powerful anti-inflammatory – as effective as aspirin and ibuprofen, but without the side effects
HOLY BASIL (also known as tulasi or tulsi, bai kaprow and kemangi) is widely known across the Indian subcontinent and throughout Southeast Asia for its culinary applications, medicinal properties and religious usage by Hindus who consider the plant an 'elixir of life'. Holy basil is said to promote spiritual purity and to strengthen the mind, and is commonly grown in temple compounds and gardens. Holy basil has powerful anti-oxidant and anti-inflammatory effects. The anti-inflammatory effects of holy basil have been shown to be as effective as aspirin and ibuprofen, but without the side effects associated with those commercial drugs. In addition, holy basil also has properties that can prevent ulcers caused by the acidic properties of aspirin and ibuprofen. Holy basil has also been found to have the ability to lower blood glucose levels in non-insulin-dependent diabetic patients; it can also protect the pancreatic cells that produce insulin. Holy basil has long been used in the Ayurvedic tradition to promote good central nervous system and cognitive health. More recently it has been acknowledged that holy basil has the ability to act as an anti-depressant and help enable the rapid recovery from stress (in fact, it is considered to be an 'adaptogen'). Holy basil has anti-spasmodic, stomachic and carminative properties, and has been utilused as a remedy for nausea, gas, dysentery, irritable bowel, peptic ulcer, and gastritis. Holy basil has also been used to treat fever, headaches, cough, cold and flu, sinusitis, asthma, lung and respiratory disorders, rheumatism / arthritis, and to prevent (or help pass) kidney stones.
~
MATERIALS: Fresh organic herb, ethyl alcohol, distilled water, purified plant body. Packaged in a 30 ml amber bottle with glass dropper.
DOSAGE: Take 10-15 drops on or under the tongue, or drink in any suitable liquid, twice daily (usually 30-45 minutes before training or performance). Observe and adjust the number of drops, dosage frequency and timing in order to achieve the best results.
SHIPS worldwide from South-East Asia. Ready to ship in 1-3 business days.
~
Like or Follow us to stay informed about the availability of our natural performance-enhancing herbal extractions
FB: fighters.friend
IG: fightersfriend
Personal and wholesale queries welcomed
fighters.friend.ss[at]gmail.com
~
Disclaimer: Information presented here is intended for educational purposes only. Such information has not been evaluated by the FDA (or similar regulatory agencies) and is not intended to diagnose, cure, treat, or prevent disease. Individual results may vary. Before ingesting any spagyric tinctures it is advisable to consult with your health care provider.
Share